Termrim Construction Ltd are sponsoring talented 10-year-old Yorkshire gymnast Ruby Ineson. Ruby, from Huddersfield, is the granddaughter of the late David Bray, a former Director at Termrim Construction Ltd.
Ruby has been invited to an elite camp in Durham, which is to be held at the club of Amy Tinkler, who won a bronze medal at the 2016 Summer Olympic Games in Rio aged only 16 and was the youngest member of Team GB.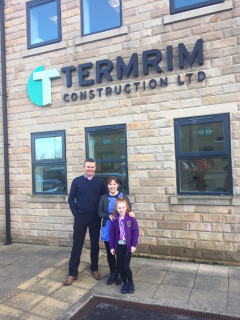 Ruby with Mum Joanne Ineson and Termrim Construction MD Graeme Bird.
Ruby, who is on the Elite Pathway, will spend the 5 days with other young elite gymnasts from around the north of England and Scotland receiving coaching and training.
The sponsorship from Termrim Construction will be used to help fund Ruby's stay at training camp.
Termrim Construction Managing Director Graeme Bird commented: "Ruby is clearly a talented young athlete and we are delighted to be able to help such a talented youngster. Ruby's parents Matt and Joanne and sister Ava can be extremely proud of Ruby and her passion, hard work and dedication to her sport."
Ruby has been training at Huddersfield Gymnastics Club in Paddock for 5 years and she is now training 20 hours a week in the gym. Over the years she has competed in Yorkshire-based competitions and is now classed as an elite gymnast in her age group.
In 2016 Ruby competed in the Yorkshire championships and was chosen to represent Yorkshire in the under 11s age group category at the National Championships in Guildford.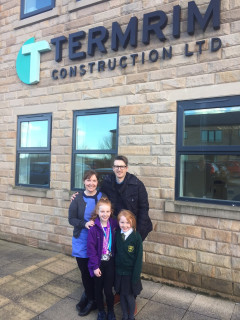 Ruby with sister Ava and parents Joanne & Matt Ineson.