Termrim Construction are pleased to confirm its appointment onto the Efficiency North EN:Procure New Build Housing Framework, covering the North West and East Midlands Region.
The new EN Procure Framework is accessed by a wide range of the region's leading social housing providers, helping to deliver their new build housing programmes.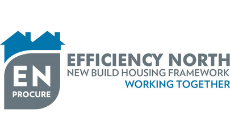 Termrim have secured inclusion on two project Lots, which include Lot 2 for schemes from 8 units to 35 units and Lot 3 for schemes from 30 units to 85 units.
Termrim has a long-standing relationship with Efficiency North and their customers, having been a preferred contractor on the previous four-year Framework, delivering many of the existing Frameworks new housing schemes, across the Yorkshire and Humber Region.
The inclusion onto the £200million North West & East Midlands Framework will ensure that Termrim continues to play a significant role in regenerating local communities, by designing and building mixed tenure housing across the north of England.